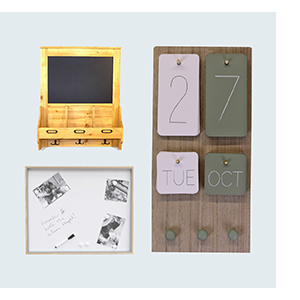 Blackboards, Memo Boards & Calendars
We supply a range of home accessories and home decor products to UK chains and independent retailers. We are market leading designers, importer and wholesale suppliers of design-led giftware and home interior accessories to fit every room and every lifestyle. We are distributors of wholesale gifts, interior decor and home interior accessories. We offer a wide range of wholesale giftware and chic items for the home. Our collection includes shabby items, chic items, distressed furniture and accessories, clocks and accessories.
The wide product range is available for supply to our trade only wholesale customers. These include, retailers, garden centres, home interior designers and e-commerce dropship clients.
We also draw new homeware product inspiration from our sister company Scarthingwell
---
All Blackboards, Memo Boards & Calendars Products